Property of Kai De Avalon

---

Raphael Beauchamp (KDAU)/Abilities and Powers is the property of Kai De Avalon.

Any edits to this page must be approved by its creator i.e. ME
Raphael Beauchamp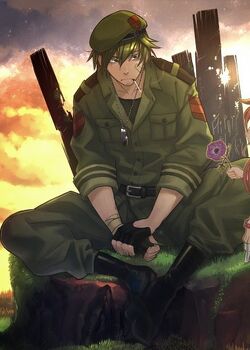 Age: 23
Gender: Male
♂
Species: Human
Blood type: O Negative (universal donor)
Birthdate: 24th August
Height: 6 foot 1 inches (185.42 cm)
Island of Origin: Water 7
Occupation: Marine, Commodore.
Epithet: The Human Blade
Crew: Gabriel's Guardians, Flotilla 25
Position: Commodore
Family: Non Surviving
Specialism: Knife User, Close Combat Specialist
Dream: To fight the most powerful pirates in the world head on.
Devil Fruit
Supa Supa no Mi
Japanese Kanji: スパスパの実
English Name: Dice Dice Fruit
Type: Paramecia
Power: To allow the user to turn any part of their body into a steel blade
Page created by: Kai-De-Avalon
Physical Traits
Edit
Physical Strength
Edit
Endurance
Edit
Fighting Abilities
Edit
Human Sword Style
Edit
Raphael is able to use several forms of Rokushiki and makes full use of them in combat.
Equipment
Edit
Devil Fruit
Edit
Raphael ate the Supa Supa no Mi.
This Devil Fruit gave him the power to turn any part of his body into a steel blade.