This article, Daemon D. Kain, is the property of Jet.
Daemon D. Kain (デーモン·D·カイン, Dēmon·D·Kain) is a Revolutionary, originally from North Blue.
Appearance
Edit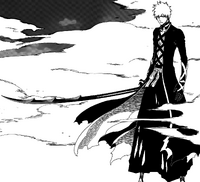 Kain is a tall, lean young man with peach skin and brown eyes. The most striking feature about his appearance is his spiky orange hair, a trait that has caused him to face a great deal of ridicule and even animosity from others. He clothing consists of a white shitagi, a black kosode, a black hakama, a white hakama-himo, white tabi, and waraji. Below all this his torso and arms are tightly wrapped in plain white bandages.
Personality
Edit
Relationships
Edit
Power and Abilities
Edit
Abilities
Edit
Appearance based off Ichigo Kurosaki from the series Bleach.
Ad blocker interference detected!
Wikia is a free-to-use site that makes money from advertising. We have a modified experience for viewers using ad blockers

Wikia is not accessible if you've made further modifications. Remove the custom ad blocker rule(s) and the page will load as expected.