"Life is much more fun when your dirty minded. "


, This article, Chi Chi no Mi (Jak), is the property of The Crownless King. No user is allowed to edit or interfere in any way with the content in the page unless specifically permitted by the owner.
Chi Chi no Mi
Statistics
Japanese Name:
血血の実
Romanized Name:
Chi Chi no Mi (Jak)
English Name:
Blood-Blood Fruit
Meaning:
Blood
Usage Debut:
Chapter ???
Type:
Paramecia
User:
Drazil
The Chi Chi no Mi is a Logia Like Paramecia-type Devil Fruit that allows its user to generate, manipulate, animate, solidify and otherwise control excessive amounts of blood, making the user a Blood Human (血人間, Chi Ningen?), "Chi" (血) is the Japanese meaning for "Blood". It was eaten by Drazil.
Strengths
Edit
The Chi Chi no Mi grants Drazil the unique ability to manipulate, animate, solidify and otherwise control blood in a psychokinetic fashions, whether the blood is his own, from the surroundings or from/in someone else. Drazil is able to freely move his blood and form it into any shape he wants to and harden it making it more useful to use as weapons, He doesn't need to cut open a wound to use this fruit as he can make his blood exit his body through other exits such as his nose, Mouth, Ears and even through the very skin.
Drazil is also able to form powered armor around his body by crystallizing the blood around his body it can also be used to shape the armor into new forms such as weapons and transportation. Drazil also has the unique ability to control the blood of others yet with the limit of him only being able of controlling the blood of people who's blood he injects into him self or who's body he injects his blood into, by controlling a person's blood Drazil has the ability to make the person move any way he wants.
Similar to his Epithet Drazil can ingest the blood of others for either sustenance, offensive, defensive, or regenerative purposes, Which he then becomes empowered when someone or Himself is bleeding. He is capable of generating higher-than-usual levels of blood from their body. He can also absorb blood through his clothes and skin, as he does with Iyaga's blood after his Blood hell hound had eaten Iyaga's body. Drazil can draw in blood to him from over vast distances.
After the two year Skip Drazil's mastery over his Devil Fruit has increased which enables him the unique ability to transform his body completely into blood by turning all his cells and bones into blood. His transformed form can be either anatomically identical to their normal form, aside of being made of blood, Her can transform into homogenous matter, without any part of his form being more important than the other. Using this ability Drazil is able to turn his body in to a Mist of Blood to get around undetected as well as disappearing in a explosion and releasing a swarm of bats made of Blood. He can also solidify, or crystallize, the blood within himself or others to use as weapons and/or tools.
He can freely manipulate his own blood flow, allowing enhance to his own strength and speed. Thus, he can increase or decrease one's blood pressure, this ability also have the ability to induce heart attacks in other creatures by blocking the flow of blood to the heart, as well as propel himself through the air for a moderate amount of time using blood. By doing this, it has advantages and disadvantages.
He can also use the special abilities of others using the subject's blood as a medium either by touching, ingesting or simply being near it. This can be temporary or permanent, possibly depending on the amount of blood utilized. He also has the ability to manifest wings of blood that grow or are attached to the body allowing flight. He Can Also Crystallize his blood on any part of his body (fist, Legs, Head Etc.)
Weaknesses
Edit
A major weakness that He can't generate limitless amount of his own blood but instead he can generate twice the regular amount of his own blood. Also, like all Devil Fruit Users, he cannot swim.
The fruit's bestowed powers, as used by Drazil, have been used in a variety of ways Since his departure from Hellpiea. Drazil notably used his powers usually either to fight or to be a "Devil Fruit sensor", activating when He recognize an enemy to be an Devil Fruit User, and enables him to drink there blood. Drazil shares Chris's penchant for naming his techniques, with the only difference being that Luffy adds the phrase "Nendo Nendo No", followed by the specific name of the attack (usually inspired by a certain object or concept). Drazil names his attacks After the blunt way they are portrayed
The named techniques that are used by Drazil that involve the Devil Fruit are as follows:
Cruce Sânge (

literally meaning "Bloody Blade"

?

): Manipulating his blood to his palm Drazil is able to form a Cross shaped Sword made from Blood which he with the use of Haki Crystallizes.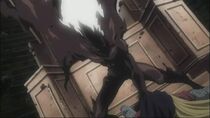 Post-Time Skio
Edit
After the two year timeskip Drazil has acquired a new level of skill with using his ability, as he has been shown to to use his fruit on a new level almost similar to that of a logia Devil Fruit user.
The named techniques that are used by Drazil that involve his Devil Fruit Post-Timeskip are as follows:
References
Edit
External Links
Edit
One Piece: The Jolly Age
Protagonists:
Jolly D. Chris  • Spike  • Timber  • Rose Glory  • Lawrence  • Wyatt  • Dracule Sakura  • X Aphro  • Hanuman  • Peabody Rune  • Peabody Karen  • Titan Bach  • Shinku  • Forge Mary  • Chiyome Lys  • Drazil  • Bellona  • Paul Kia  • Niko Lai  • Mut Mizu  • Foi  • Artemis Grove  • Ash  • Samsa  • Just D. Kris  • Euthemia  • Sarutobi  • Artemis D. Falko  • Ika  • Tako  • Anne  • Mira  • Tora  • Endo  • Dieu-le-Veut Veronica  • Roxanne  • Shiro Lucy  • Flambe  • Jean Reis
Antagonists:
Majestic T. Decaden  • Rex Kong  • Tombstone Grim  • Pan  • Mimikko  • Honeydew  • Gray  • Red  • Yukon  • Labrador  • Garde  • Chance  • Benzaiten  • Haidar  • Sharp Francis  • Benedict Lo  • Manson  • Set  • Isaac Giovanni  • Mayonaka  • Medusa  • Nos Bram  • Nephthys  • Damon  • Gozu  • Mezu  • Shellman  • Yeren  • Yomi  • Iyaga  • Malley  • Fall  • Winter  • Spring  • Summer  • M  • Hagith  • Livi  • Ava  • Palatine Shuck  • Jorogumo  • Charon  • Pyrite Liger  • Rum  • Vega
Supporting Characters:
Jolly D. Gogh  • Just D. Nebula  • Just D. Lisa  • Urufu  • Meso  • Maya  • Boris  • Pearl  • Rose Venus  • Shin  • Phoenix Virgil  • Masa Mune  • Salma Koken  • Skookum  • Solomon Scarab  • Solomon Dune  • Baal  • Regina Marble  • Regina Palette  • Jolly D. Mona  • Postardon  • Static Dyson
Cameos:
Monkey D. Luffy  • Straw Hat Pirates  • Franky Family  • Galley-La Company  • Dracule Mihawk  • Bentham  • Shanks  • Red Hair Pirates  • Kureha
Groups:
The Jolly Pirates  • Spike's Soldiers  • Ika Bounty Hunters  • Shin and Ika Hunters  • The Four Legged Pirates  • Kuro Lobos Gang  • The Storm Pirates  • The Valkyrie Pirates  • Lucky Streak Division  • The No Beard Pirates  • The Collosal Pirates  • Phantom Corporation  • Vesper  • The Blazing Mane Pirates  • The New Blazing Mane Pirates  • No Beard Pirate Army  • Seven Heroes of the World

Abilities
Devil Fruit Based:
Nendo Nendo no Mi  • Dino Dino no Mi, Model: Kentrosaurus  • Tori Tori no Mi, Model: Parrot  • Yaku Yaku no Mi  • Kawaii Kawaii no Mi  • Feizu Feizu no Mi  • Chi Chi no Mi  • Rokka Rokka no Mi  • Jiko Jiko no Mi  • Dorai Dorai no Mi  • Hito Hito no Mi, Model: Zombie  • Mushi Mushi no Mi, Model: Black Widow  • Roketto Roketto no Mi  • Aku Aku no Mi  • Neko Neko no Mi, Model: Tiger  • Hone Hone no Mi  • Banrai Banrai no Mi  • Gurisu Gurisu no Mi  • Tsuchi Tsuchi no Mi  • Saru Saru no Mi, Model: Gorilla  • Uma Uma no Mi, Model: Mustang  • Mushi Mushi no Mi, Model: Honey Bee  • Shuuchuu Shuuchuu no Mi  • Jori Jori no Mi  • Zaigo Zaigo no Mi, Model: Lust  • Saimin Saimin no Mi  • Hebi Hebi no Mi, Model: Hornsman  • Batto Batto no Mi, Model: Myotis Myotis  • Oni Oni no Mi, Model: Behemoth  • Dino Dino no Mi, Model: Utahraptor  • Nawa Nawa no Mi  • Zaigo Zaigo no Mi, Model: Sloth  • Karori Karori no Mi  • Ibi Ibi no Mi  • Hitta Hitta no Mi  • Inu Inu no Mi, Model: Rottweiler
Fighting Style Based:
Okama Kenpo  • Bigfoot Muay-Thai  • Rokushiki  • Merman Combat  • Shinku Rengetsu  • Enchantment  • Red Boxing Style  • Lucy's Tricks  • Wild Style Kung-Fu  • Combat Maneuvers  • Sexy Style
Swords Styles:
Dracule Sakura's Ittoryu  • Momoran  • Moon Harvest  • Eien no Tsuki  • Gyousei  • Hattoryu  • The Eight Arms  • Flying Dancer  • S.O.U.L.  • Keiro e Eden  • Vega's Santoryu
Weapon Based:
Plated Fists  • Timber Ultra Collection (Storm Edition)  • Wyatt's Arsenal  • Nyoibo  • Anne's Arsenal  • Reis' Concert  • Gungnir  • Guardrone  • Niboryu  • Shellman  • Liger Claws
Support Abilities:
Haki  • Revival Cube  • Life Return  • Placebo Power Pill  • Gender Tablet
Ad blocker interference detected!
Wikia is a free-to-use site that makes money from advertising. We have a modified experience for viewers using ad blockers

Wikia is not accessible if you've made further modifications. Remove the custom ad blocker rule(s) and the page will load as expected.